Fundraising
At Blue Coat C.E (A) Infant School we hold regular fundraising events for local and worldwide charities. As well as special projects and activities for the children organised by our PTA. Here are some of the Charities we support (click on highlighted name or logo to find out more):
Partner Schools
We are partnered with a school in Wellingara in Gambia.
We raise money to help and support their development.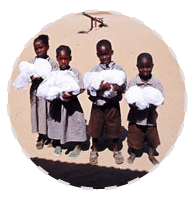 Malaria kills 1500 children annually in the Gambia and it indirectly contributes to the death of hundreds more.  It may also result in some physical and mental disabilities (sometimes permanent) to children under five as well as the adult population.  About 85% of cases reported at health facilities are children under five years, followed by ante-natal patients (about 12%). We have raised funds for mosquito nets and for resources used in their school to teach English.
Glebe Centre
We send Harvest parcels to local senior Citizens and to the "Glebe Centre", an initiative by local Christian Churches in order to help the homeless, unemployed and generally disadvantaged people of Walsall.
Guide Dogs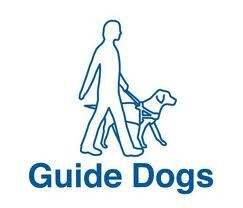 Guide Dogs have been expertly breeding and training guide dogs for more than 75 years, providing many thousands to blind and partially-sighted people of all ages and from all walks of life.
Macmillan Cancer Support

Macmillan Cancer Support improves the lives of people affected by cancer. We provide practical, medical and financial support and push for better cancer care.
We have had several Coffee Mornings to support this organisation.
Operation Christmas Child

Operation Christmas Child is the world's largest children's Christmas project. Last year over 1.5 million shoe boxes from the UK were sent to children's hospitals, orphanages, Internally Displaced Persons camps, homeless shelters and impoverished neighbourhoods around the world.
Every year  the children and parents of Blue Coat Infants decorate and fill shoe boxes with a selection of tous, educational supplies, hygiene items, and items such as hats, gloves and sweets.
For some of the world's most disadvantaged children, the shoe box could be the first Christmas present they have ever recieved in their lives.
CLIC Sargent

 Caring for young children with cancer and their families – in hospital and in the community.
Save the Children 

Changing lives – we focus on achieving four core rights for children: health, freedom from hunger, education and protection.
Emergencies -"Support our work rebuilding lives shattered by disasters, such as the Haiti Earthquake and Afghanistan Emergency"
Campaigning -"We fight to End Child Poverty and give children the voice they deserve." 
Barnados 

Barnados work with children and young people. We want children to belong, it's that simple. We work with families in many ways including: fostering and adoption, disibility fostering and adoption and coping with domestic violence.
NSPCC

"The National Society for the Prevention of Cruelty to Children is inspired by a belief that we can make a difference for all children – by standing up for their rights, by listening to them, by helping them when they need us and by making them safe.
Our vision is ending cruelty to children in the UK. We believe cruelty is preventable and that through having an inspirational vision we will achieve much greater success for children."
"We take action to prevent, rescue and support children facing life trapped in a vicious circle of fear and harm; a vicious circle driven by violence, neglect, poverty and discrimination."
Cancer Research UK

Cancer Research UK is the world's leading charity dedicated to beating cancer through research. Thanks to our groundbreaking work more people are beating cancer than ever before. Find out how you can get involved and help us continue our life-saving work.