Forest Schools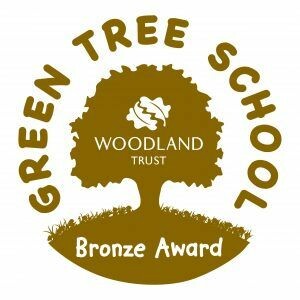 Forest School is an inspirational process, that offers ALL learners regular opportunities to achieve and develop confidence and self-esteem through hands-on learning experiences in a woodland or natural environment with trees. 
The Forest School Association
At Blue Coat Infant School we are extremely lucky to have a wonderful Forest area situated above and behind the playground. We are going to utilise this space to deliver Forest School sessions to your children.
What is Forest School?
Forest School is an approach to learning that aims to promote and improve your child's self-esteem, resilience, communication, confidence, physical health and mood in a natural setting.
What activities will take place?
Identifying the trees, plants, flowers, birds, insects and animals that visit our forest
Learning about the characteristics of different plants and whether they are safe or not safe
Den making
Looking for minibeasts
Creating habitats for minibeasts
Creating welcoming environments for birds
Identifying deadwood and live (green) wood
Using natural materials to create woodland crafts
Use rope and string to tie different types of knots
Playing games
Making music and musical instrument
Listening to the sounds around us
Using all our senses to discover our environment
What skills is Forest School aiming to develop?
Confidence

Team work

Communication

Resilience

Independence

Happiness

Sharing and taking turns

Problem solving

Decision making

Caring

Taking risks in a safe environment

Reflection
And many many more! Forest School is unlike the normal classroom based approach.  The children will have much more say in what we learn outside and they will direct the learning.  They will make more decisions and be more independent.  Forest School encourages children to use their initiative to work out solutions to problems.
It also works at a pace that is right for them so they feel less pressured.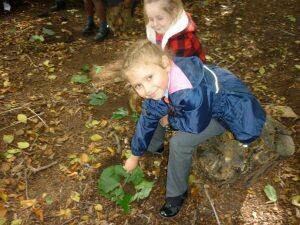 Will they use tools and fire?
Using tools such as secateurs, loppers and a bow saw and lighting fires are exciting aspects of Forest School.  From day one the children will set up a fire circle and learn how to walk around it and the rules we have about it.  They will observe Mrs. Dunbar using tools and hearing the safety talks about each one. The children will learn all about the rules of the fire and tools straight away.  Their understanding of these rules will be assessed and when Mrs. Dunbar feels they are ready, they will be introduced to using tools and making and cooking on fire.
How will their safety be ensured?
Safety is always important in the forest and every session starts with a safety talk.  The children will be supervised by an adult when using tools or when near the fire.  Tools will be used in a ration of 1:1 child to adult or with the bow saw 2:1 as 2 children use the saw in a push pull action. Children use tools with a purpose: to make other tools, crafts, furniture (yes we are going to make chairs and tables!) etc.
With fire, children will only approach a fire if invited by Mrs. Dunbar to do so. They will follow the safety guidelines – only entering the fire circle from the entry point, kneeling on one knee (the 'Respect' position) and being supervised at all times.  A maximum of two children will be invited to approach the fire atany one time and this will usually be to help with cooking (such as toasting marshmallows)or to add fuel (small sticks) to the fire.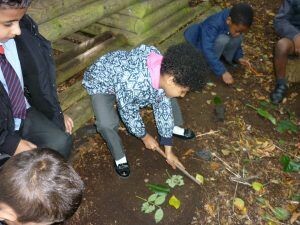 Come along and find out more:
Mrs. Dunbar holds 3 Forest sessions per half term for parents.  These vary in times between morning, afternoon and after school so that hopefully one will fit in to your work or child care needs.  Places are limited so you will need to sign up for these at the school office.
You can also follow the Forest school activities on the school Twitter feed: @Bluecoat_fed
Full risk assessments and policies are available in the school reception for you to view.